Amos Vogel
Film as a Subversive Art tells the story of Austrian-born film historian and curator Amos Vogel, who in 1947 established Cinema 16, America's most important film club, and later the New York Film Festival, as well as publishing in 1974 one of the most legendary books on cinema ever, Film as a Subversive Art, which Norman Mailer called "the most exciting and comprehensive book I've seen on avant-garde, underground and exceptional commercial film." The film was screened in 2004 at the Viennale, where Vogel was the subject of a retrospective.
Be Sand, Not Oil: The Life and Work of Amos Vogel is a collection of writings by and about Amos Vogel, edited by Paul Cronin, published in 2014 by the Austrian Film Museum.
Watch Film as a Subversive Art here. The film's dialogue transcript is here. A collection of audio/visual clips about Amos Vogel is here.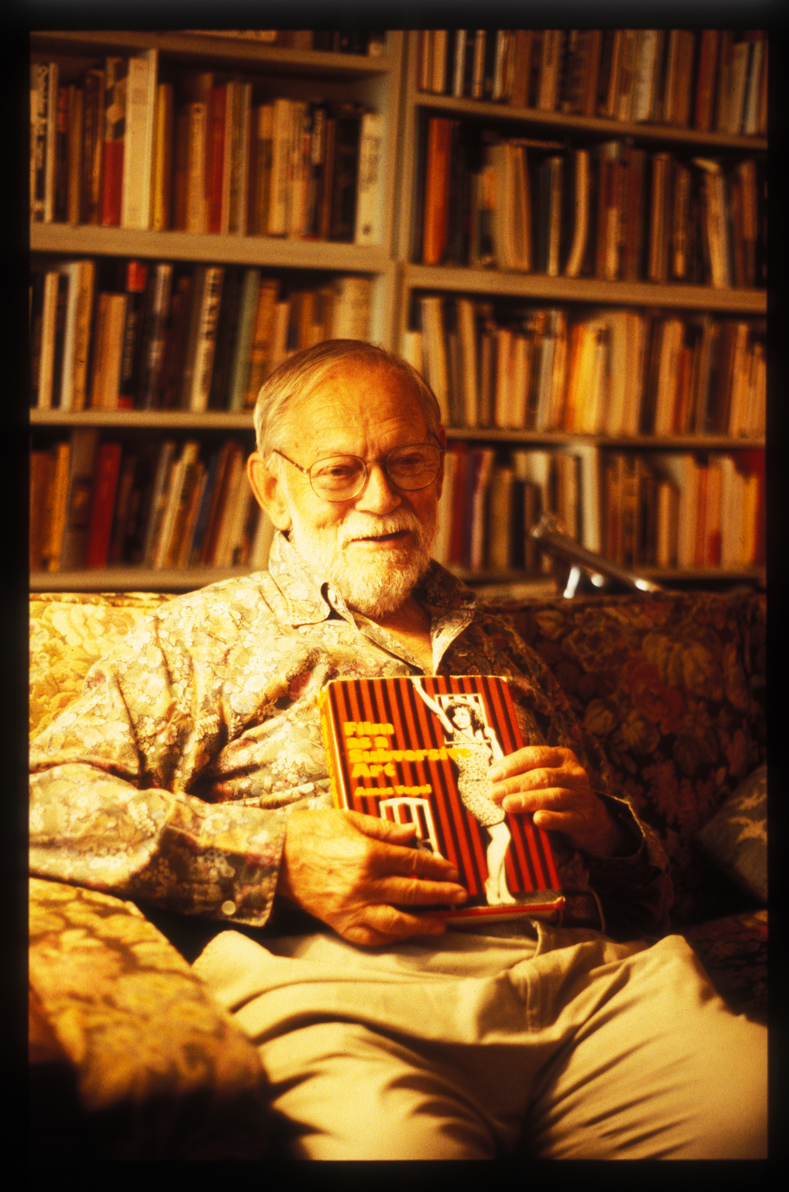 "As a race we have become aware of certain dangers that surround us. We comprehend, for example, that nuclear power is a real danger for mankind, that over-crowding of the planet is the greatest of all. We have understood that the destruction of the environment is another enormous danger. But I truly believe that the lack of adequate imagery is a danger of the same magnitude." Thus spake German director Werner Herzog.
Though Herzog has always been an arch autodidact, one wonders how much of an influence his conversations with friend and mentor Amos Vogel have had on him over the years. Born in Austria in 1922, Vogel has been based in New York since 1938, and is one of America's most innovative film curators and historians. In 1947 he created Cinema 16, a pioneering film club aimed at audiences thirsty for work "that cannot be seen elsewhere," and in 1967 established the New York Film Festival where, the following year he screened Herzog's first feature Signs of Life. Vogel later published the culmination of his thoughts (along with an extraordinary collection of stills) in Film as a Subversive Art, a book that drives home the notion Herzog states so eloquently above: that most of the images around us are worn-out, suffused with commercialism, even pernicious in their banality.
"In the 1940s, it was very difficult, even in New York, to see the kind of cinema I wanted to see," says Vogel. "I knew there were lots of films that were far more interesting that the Hollywood product most people were going to. At the time there were lots of artists working on small, personal projects, but there was no showcase for experimental and documentary films, short fiction, and abstract animation." After seeing avant-garde filmmaker Maya Deren introduce her own films at a small Greenwich Village theatre, Vogel decided to hire the venue himself, and started screening 16mm shorts under the banner of Cinema 16, a membership-only film society "for the adult moviegoer."
Vogel soon became one of the most important figures in what today would be considered "independent" film. Within two years he was exhibiting an extraordinary eclectic range of work to over 3,000 people a week. A single programme might contain films such as Deren's masterwork Meshes of the Afternoon, The Garden Spider, a short featuring close-ups of a spider at work, New Faces Come Back, a documentary about the plastic surgery performed on "horribly maimed RAF fliers," Living in a Reversed World, a German science film that documents a singularly bizarre experiment, Weegee's New York, the only film made by the legendary New York photographer (and the only film that Vogel himself edited), The Eternal Jew, a piece of virulent Nazi propaganda, and Fiddle-De-Dee, an animation by Norman McLaren. As Jonas Mekas, the other grand old man of underground New York cinema and founder of America's most important showcase for experimental film, Anthology Film Archives, tells historian Scott Macdonald in his book about Cinema 16, "For some time, it was the only place you could see the American avant-garde. Of course, it affected my whole life; I consider it one of my universities."
Cinema 16 is a cultural, non-profit organization devoted to the presentation of outstanding 16mm documentary, educational, scientific and experimental films. Cinema 16 will present the classics of Flaherty, Grierson and Cavalcanti as well as the newest releases dealing with the life of Man, be he Navajo Indian, a Southern Sharecropper or a "displaced human being." Cinema 16 will screen superior education and scientific films, hitherto utilized primarily by schools and the medical profession. It will show films dealing with psychology and psychiatry, biology and chemistry, art appreciation and literature. It will present the newest releases in macrophotography as well as classics such as Pavlov's film on conditioned reflexes. Cinema 16 will screen the best in experimental and avant-garde films. It will show expressionist, surrealist and abstract films, presenting the work of Leger, Watson-Weber, Man Ray, Oscar Fischinger as well as most recent experimental work. Cinema 16 will at all time encourage the production and exhibition of new amateur documentary and experimental films of both American and foreign origin and will act as a showcase for films of this type. Cinema 16 is determined to bridge the gap that exists between fact film production and the people. By bringing purposeful films to the general public, Cinema 16 will contribute to a great realization of the problems facing man in this atomic age.
From the program announcement of Cinema 16′s third performance, January 1948
On 9 October 1953, a symposium on the subject of "Poetry and the Film" was held at Cinema 16. The participants were poet Dylan Thomas, playwright Arthur Miller, filmmaker Maya Deren, critic Parker Tyler and filmmaker Willard Maas.
A reel-to-reel audio recording of the 1953 Cinema 16 event was discovered in Amos Vogel's apartment after his death, and digitised by the Austrian Film Museum. A transcript of this recording can be found here. A published version from Film Culture is here.
"It is a catastrophic fallacy to assume that running a film society involves nothing more than an idealistic concern with good films, coupled with their lackadaisical presentation to willing audiences," wrote Vogel. "On the contrary, the individual brave enough to venture into this troublesome field, must be – no matter what the size of the society – an organizer, promoter, publicist and copywriter, businessman, public speaker, and artist; a conscientious, if not pedantic, person versed in mass psychology. He must have roots in his community. And he must know a good film when he sees it."
Once people knew that Cinema 16 was a place where their films might be screened, Vogel was flooded with prints from around the country. Every year he spent months working through the hundreds of reels filmmakers sent to his New York office. Vogel's natural inquisitiveness also took him around the world, to archives and film festivals, in search of new fiction and non-fiction shorts. Due to his wide reading habits, Vogel was able to seek out films that few even knew existed. "I heard that there was interesting work being done at the Łódź film school in Poland," he recalls. "They sent me some of the student films over, and I ended up screening a film called Two Men and a Wardrobe by a young man named Roman Polanski. It was the first time any of his work was ever screened in America, several years before he made his first feature."
Vogel, who never saw a distinction between experimentation in mainstream cinema and any other realm of filmmaking, was soon finding space on Cinema 16′s schedule for classics from Hollywood and elsewhere. As respectful of Chaplin, Eisenstein and Kurosawa as he was of Anger, Brakhage and Broughton, the titles seen at America's largest private-member film club during its 16-year existence include Welles' The Magnificent Ambersons, Kurosawa's Rashomon, Cocteau's La Belle et la Bête, and the first ever screenings of Cassavetes' Shadows and, perhaps a little surprisingly, Hitchcock's 1956 version of The Man Who Knew Too Much (followed by a session with the director himself). Vogel also established the first distribution company in America that specialised in the kinds of films that made Cinema 16 so unique.
What made Vogel's venture especially exciting was his success in bringing the European film society tradition to the United States. As Scott Macdonald explains, "The most remarkable thing Amos did was assume that the idea of showing films is to build audiences. A film society isn't directed just to small coterie group who already likes the kinds of films you're showing. What the curator should be doing is trying to show the public that there are other worlds of cinema out there, equally provocative and interesting as the commercial product they go to see. Cinema 16 was Vogel's attempt to create a true community where people would come together to talk about political issues, to become better citizen. The film society was, for Vogel, an aid to good citizenship in a democracy."
For more than sixty years Amos Vogel was in search of what Herzog would call "adequate imagery." Through his writings and teachings, he educated generations of filmgoers about the world of "other" cinema that exists, the one that doesn't appear at the local multiplex or video store. In this respect, Vogel's contribution to our understanding of experimental, deviant and thought- provoking cinematic art is incalculable.
A version of this article appears in the Summer 2003 edition of Vertigo (PDF here)
Will we ever break out of the mold of Profit Motive, Commercial Imperative, Bottom Line, Product? Will the awesome free spirit of humans ever be allowed to offer us splendiferous visions instead of the calculated spurious anti-fantasies generated by the current crop of Hollywood directors and producers? Whatever the answers, I am content knowing that I contributed to the dissemination of such visions, passionate creativity, and radical challenges. To question what exists and to radically transform it remain our most compelling imperatives.
Amos Vogel, 1984

Film as a Subversive Art: Amos Vogel and Cinema 16 is an hour-long filmed profile of Amos Vogel, New Yorker, Austrian emigré, founder of the New York Film Festival and America's most important film society, Cinema 16.
In 1947, Amos Vogel created a film club in New York called Cinema 16, the most important and influential film society in American history. At its height it boasted thousands of members, inspired a nationwide network of smaller film societies, and gave birth to the very rich tradition of post-war film culture that still exists in the United States. More than a decade before the father of modern 'independent' cinema – John Cassavetes – even picked up a camera, Vogel was bringing to a mass audience new ways of looking at world cinema. The audiences of Cinema 16 were presented with a wide range of film forms, often programmed so as to confront – and sometimes to shock – conventional expectations, including works of the avant-garde, documentaries of all kinds, experimental animation, and foreign or independent features and shorts not in distribution in the United States. From the very beginning Vogel was determined to demonstrate that there was an alternative to industry-made cinema. Initially concentrating on non-fiction, he became the first programmer to show the works of Cassavetes, De Palma, Kluge, Oshima, Ozu, Rivette and Resnais, among many others, to American audiences. Vogel saw himself as a special breed of educator, using an exploration of cinema history and current practice not only to develop a more complete sense of the myriad experiences film culture had to offer, but also to invigorate the potential of citizenship in a democracy, and cultivate a sense of global responsibility.
Film as a Subversive Art
Amos Vogel and Cinema 16

56 minutes, colour and black & white
DV-CAM, archive 16mm
© Sticking Place Films Ltd. 2003