Columbia University 1968
When the country
into which I had just set my foot
was set on fire about my ears
it was time to stir.
It was time for every man to stir.
1968 was an extremely troubled year in modern history. Around the industrialized world – Paris, Rome, Berlin, Tokyo, Mexico City and Prague – major uprisings took place. Historian Alan Brinkley has written that the upheavals of the era "reflected, at least in part, the gap between bright expectations and reality." This gap was all too apparent in the United States, where baby boomers were coming of age in the face of de jure racism and the waging of a war in Southeast Asia. But while 1968 was, as Maurice Isserman and Michael Kazin have noted, "the pivot of the American decade," it was also the moment when "young radicals emerged from events tinged with violence to proclaim that a revolution was in the making."
In April, at the highpoint of the war in Vietnam and the Black Power movement, only days before the general strike in France and weeks before the Soviet occupation of Czechoslovakia, students at New York's Columbia University were galvanized in protest and for a week occupied several buildings on campus, bringing the focus of the world's media on a few square acres of northern Manhattan. In many ways this was the culmination of years of activity. As Ron Carver was a Columbia undergraduate in 1968, and explains that, "the entire four years of my high school I would go home at night and watch on the news the story unfolding of the struggle for Civil Rights in our country, starting with the Freedom Rides, buses full of people. We saw people being beaten in Birmingham, in Jackson, Mississippi, in Aniston, Alabama, every night on TV. This was what defined in our minds the moral crisis in our country and it defined who our heroes were. For me and others it defined what we wanted to do."
The catalyst for the student revolt at Columbia was the University's decision to construct a gymnasium on public land in nearby Morningside Park. Although residents of neighboring Harlem were to be given limited use of this facility, local community leaders objected, seeing the project as encroachment upon their residential neighborhood. "They were going to build a gym with its back to Harlem, with a small door through which Harlem residents could come and swim a few times a week," says Leon Denmark, in 1968 a member of SAS, Columbia's Students' Afro-American Society. "When I grew up in Frederick, Maryland, that's what we could do at the YMCA. We could go into a side door and we could swim in the pool once a week. My grandparents who raised me, they wouldn't allow me to go. That was in the 1950s, and here we were in 1968 and a major university, in a major northern city, was doing the same thing."
"Race and power are two key elements in the narrative of American history," historian Stefan Bradley has written, "and they are even more important to the story of Columbia University's student revolt that started in April 1968 and continued into the fall of 1969. The predominantly white Ivy League school, in the Morningside Heights neighborhood of New York, functioned, as did many white institutions in the 1960s, as one that would impose its will on the seemingly defenseless black communities of Morningside Heights and Harlem by building a ten-story gymnasium in the precious recreational space of Morningside Park."
At the same time, the Columbia chapter of Students for a Democratic Society (SDS) was growing in strength, actively campaigning against the University's affiliation with the Institute for Defense Analyses and what it claimed was Columbia's support of research benefiting the government's war effort. "Campus-based military research deeply involved higher education in the formulation and execution of American foreign policy," writes historian Kenneth J. Heineman. Columbia student Lewis Cole, a member of SDS, explains that "the worlds of Columbia and Vietnam were not divisible. The two were interrelated. The idea that these were separate spheres, that politics existed in one place but didn't exist in the other, was not the case. Some of us saw Columbia as a microcosm of the imperialist, racist and war-mongering American government, and we decided to hold a large campus rally on April 23, 1968."
On that day members of various student groups, including SDS and SAS, joined forces and walked to Low Library, home to the University's administrative offices, where they were repulsed by security guards. Shouting 'Gym Crow Must Go!' they marched side-by-side to Morningside Park, where they tore down a section of fence at the construction site of the gymnasium before returning to campus and occupying Hamilton Hall. Yet within a few hours there was a racial split, when SAS students asked all whites to evacuate the building, leaving it solely in the hands of black students. Ray Brown, in 1968 a member of SAS, believes that the differences between black and white Columbia students were irrevocable. "We made a decision that we were going to be disciplined and that no one was going to be injured if we had anything to say about it," he says. "We had a good sense of how to handle ourselves under these circumstances because we had thought about this kind of event for years. We were committed to moving forward in a disciplined way that we knew we could impose on ourselves, but could not expect of others. So we had to ask the white students to leave, and take their own building."
"My impression as an outsider was that this was a tremendous humiliation to SDS," says Carolyn Eisenberg, in 1968 a graduate student in the history department. "SDS felt they had been, in the language of the day, 'gut-checked.' Here was a revolutionary situation that had emerged and the white students had been removed from the situation by members of SAS." A group of white students immediately moved out of Hamilton, wandered across campus in the middle of night and occupied Low Library, where they read President Grayson Kirk's private files, smoked his cigars and drank his sherry.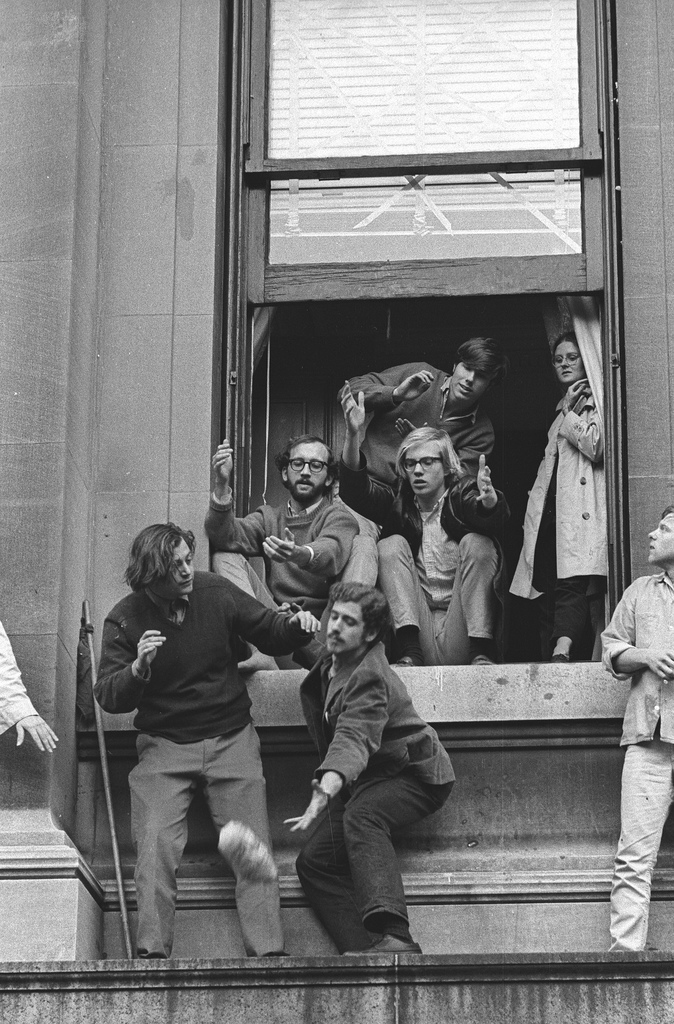 In the tumultuous days that followed, protesters barricaded themselves into three other buildings and established 'communes' that were organized along the lines of 'participatory democracy.' Eleanor Stein was a Columbia graduate student in 1968. "The underlying idea of this project was that everyone participating was going to get an opportunity to weigh in and give their opinion," she explains. "In that respect, it was a rare and a clarifying moment for us. We were attempting to create a new paradigm where decisions were being made from the bottom up." In this respect, Columbia 1968 was part of a larger societal challenge. As David Farber has noted, "From the New Left to the nascent New Right, from Black Power activists, Chicago militants, white southerners, and white urban ethnic blocs came impassioned calls for a more direct democracy built on local control and community right to self-determination."
Outside on campus, all classes were canceled as the faculty met in a desperate attempt to resolve the crisis. Professors on American campuses had "won academic freedom, in the first instance, not from state or church, but from their own trustees and administrations; the victory took the form of a division of labor and privilege that still persists. Nowhere was this more true than at Columbia," notes Allan Silver, a Columbia faculty member deeply involved in attempts to resolve the crisis. Yet the "faculty was fundamentally on Columbia's side," says retired Columbia Professor Walter Metzger. "You have to understand that there was no way we could feel closer to the students than we did to the administration. It's the administration that paid our salaries and understood what we were about. These protesters were kids. At most they would be in our class maybe for one semester. The story the administration put out was that the faculty deserted them and joined with the worst elements among the students. That, I think, completely misunderstands the situation and maligns the faculty in the most unfair way." At the same time a small group of students calling themselves the 'Majority Coalition' – opposed to SDS' pseudo-revolutionary antics – surrounded Low Library to prevent supplies from reaching protesters. Historian Gregory Schneider explains that while Vietnam was a catalyst for organizing on both sides of the political spectrum on campus, ultimately it was not the war "that brought the two sides into combat, but rather the issue of unlawful and disruptive campus protest."
Bill Crosby was an undergraduate student at Columbia in 1968, and grew increasingly frustrated by the tactics of the protesters. "The duty of the population is to change unjust laws," he says, "and for that we have a Congress. The Constitution of this country clearly provides a process for voting out those who are making the laws. But what is not acceptable is for some radical group to undercut the will of the majority and do what these demonstrators were attempting to do. The correct way to implement the will of the people is to elect politicians who will do what the majority of the population wants. The truth is that these folks at Columbia had a little problem because the majority of the population did not agree with them, so they were trying to overrule the will of the majority, which is not an acceptable undertaking in a democracy." Historian Richard J. Ellis has written powerfully of the shift that took place amongst the leaders of Columbia SDS in 1968, something that resulted in the organization eventually succumbing "to the vanguard seduction when the masses failed to respond as nascent egalitarians."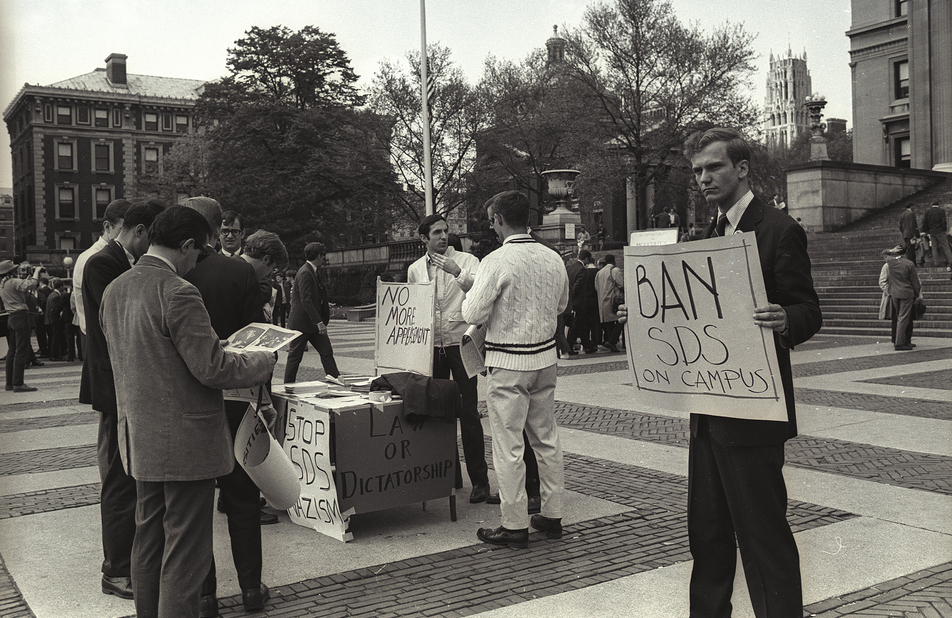 Fearful of a Harlem riot if the African-American students in Hamilton were harmed, the University administration hesitated for days before requesting that police clear the campus. "The paralyzed administration feared a gang war between right- and left-wing students," writes historian Rick Perlstein. "They feared reinforcing mobs from Harlem. They also feared for their liberal self-regard. The New York Times grasped the nub of the dilemma: liberating Columbia from 'hoodlum tactics' would take the kind of police tactics an Ivy League university was 'properly reluctant' to apply." The events culminated, after nearly a week, with the black students surrendering without a fight and a thousand New York City Police officers forcibly removing protesters from the other four buildings and the rest of the campus. Mike Reynolds, a member of the elite Tactical Patrol Force, suggests that "the one thing the protesting students did learn that night was the difference between the theory of law and the practice of law. They saw how it really works. Back in the day, Mayor LaGuardia said that there was more law in the end of a nightstick than there was in all the law books in the country, and that's true. The basis of all law is the threat of force. If you don't obey the law, we will hit you on the head and throw you in prison." Several hundred students, faculty and police were injured, and many more were immediately radicalized. Almost the entire study body responded in solidarity when, on May 1, 1968, SDS called for a campus-wide strike.
In 1968 SDS argued that "the whole education system now – from grade school on up – is used to tie the allegiance of youth to the capitalist system by building up an ideological army for the ruling class." The campuses were ready to explode, and Columbia 1968 set off a series of unprecedented campus uprisings across the nation. Alan Brinkley has written that "for a brief moment in the 1960s, a small group of student radicals managed to do what the American left had largely failed to achieve in almost a century of trying: create a genuine mass movement." Yet the 'Battle of Morningside Heights' – a seminal event in modern American history, never before told in-depth on film – reflected and encouraged an emerging trend toward violence and rebellion at American universities and, in some fevered imaginations, made the campus the center of an apparently impending revolution in America. The action at Columbia "was, at the time, the most prolonged of its kind at a major university – and the first at an Ivy League school," write Maurice Isserman and Michael Kazin. What happened at Columbia in the Spring of 1968 – only three weeks after the assassination of Martin Luther King Jr., an event which precipitated the final fragmentation of the Civil Rights Movement and the rise of militant Black Power politics – was an early example of legal protest against the war in Vietnam – and more generally the power structure in the United States – becoming illegal resistance.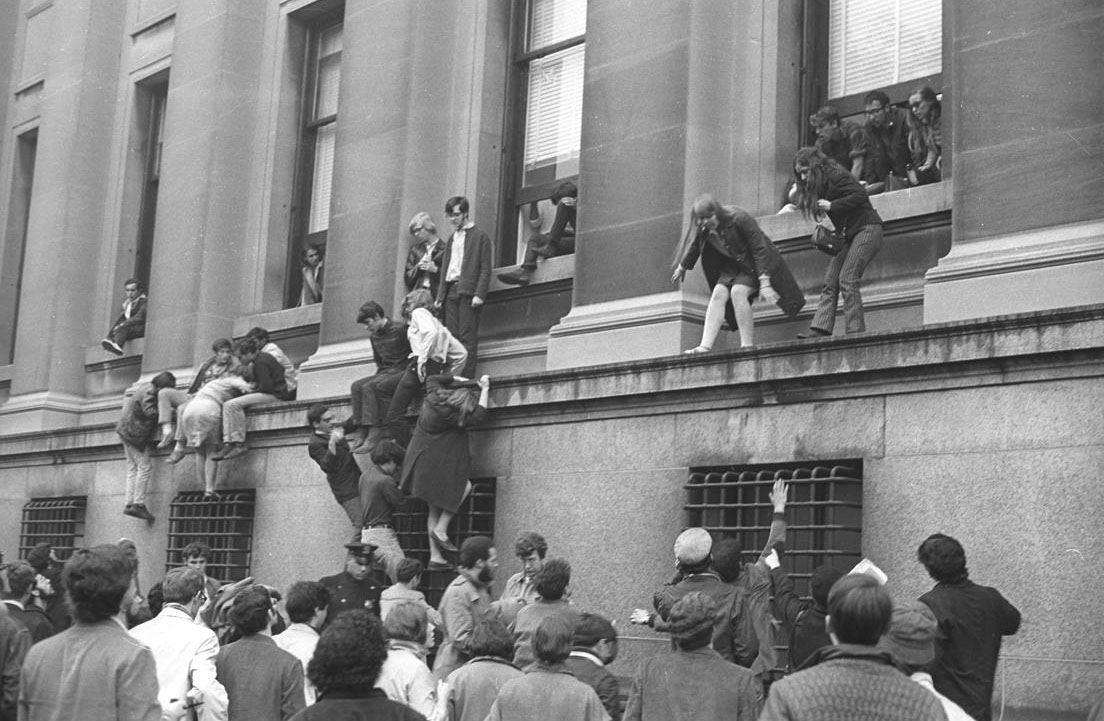 There can be little doubt that, as Allen J. Matusow has noted, "Columbia began the New Left's decline into madness. After Columbia, revolutionary consciousness rapidly took hold, and the goal of the movement became the seizure of power." Harvey Blume was a member of Columbia SDS in 1968. "Indigenous to early SDS was Jeffersonian populism," he says, "but around the time of the campus protests something else emerges. Leadership starts to regard itself as a vanguard with a privileged relationship to the truth. That's the moment when Leninism takes over. The New Left had always been defended against the Stalinist Old Left, but couldn't adequately defend itself against the Maoism that seeped into the movement in 1968. I feel that those kinds of ideologies very much did infect us, and distort our view of things." While liberal reformers among faculty and students quickly reclaimed control of the University during the Summer of 1968, many of the coalitions that had bound together the nationwide student protest movement were now effectively shattered by this acceleration toward radicalism. Columbia 1968 became a decisive moment for the New Left in America and the anti-war movement in general. "It became this beacon, certainly throughout the city and probably, to some extent, nationally," says John Evansohn, a member of Columbia's chapter of Students for a Democratic Society. "Nothing like this had ever happened before. There had been years and years of discussion and education and agitation and anti-war demonstrations. People were ready for the spark to light them off." Several leaders of the uprising became members of the radical Weatherman organization, and one of them was killed less then two years later while making a bomb intended to attack a military installation.
In re-evaluating this brief moment in America's history when Columbia University was the eye of the storm, A Time to Stir goes beyond the romantic, nostalgic, journalistic and ideologically driven accounts of that period by penetrating into the complex politics of the time. Our project is not merely a visual representation of existing written sources. Rather, after more than four years of work, it has become a nuanced and impartial visual document constructed upon original historical research and newly-recorded, first-person accounts, alongside hours of never-before-seen footage and 30,000 photographs to which we have exclusive access. Until now, many archives relating to these events, both public and private, have never been accessed in such detail, including relevant files from Columbia's 'Protest and Activism Collection.' Throughout the research and pre-production phase of this project, huge caches of primary material have been discovered in private hands, material that has been crucial in piecing together a detailed chronology of the events of Spring 1968. This includes original copies of Columbia student publications from the late Sixties and comprehensive collections of strike propaganda produced during the building occupations. We have also uncovered several unpublished memoirs and articles written by participants of all political persuasions. International research trips have yielded extraordinary collections of photographs and archive footage, resulting in a visual representation of almost every significant moment relating to the student protests at Columbia in 1968.
We have, from the start, taken into account as many points of view as possible, including students of a variety of political persuasions inside the occupied buildings; the police who removed them from campus; the faculty who attempted to negotiate a compromise; local Harlem politicians and community leaders; representatives of the Mayor's office; members of the University's administration; and Columbia students who countered the protests, adamant that their university would not become a forum for disruptive radical activity. Much of this commentary comes from voices under-represented in previous films about the period. The result is five hundred interviews that form the basis of a first-person narrative documenting a huge number of vivid and diversified points of view. Individuals such as SDS leader Mark Rudd, activists Tom Hayden and Noam Chomsky, art historian Arthur Danto, broadcaster Robert Siegel, former New York Governor George Pataki, historian Howard Zinn and novelist Paul Auster give these events the context and clarity that comes with forty years reflection and impassioned memory, and make for a primer in political science. Extensive interviews with Columbia's African-American students who were involved, most of whom have never spoken publicly about their experiences of the student rebellion, means their essential story is told for the first time. (At a screening of fragments of A Time to Stir on the Columbia campus in April 2008, many white students expressed how much they had learned from the film. Even in such an unfinished form, it was for many veterans of Columbia 1968 a revelation. "We lived through these events," they said, "but never really understood them – until now.")
Conversations with the considerable number of students who were against SDS's activities offers an articulate account of their perspectives and break new ground in our understanding of the issues. Discussions with female students reveal how the nascent women's movement blossomed inside the occupied buildings for those few days, and afterwards on campus and beyond. As Nancy Biberman, an undergraduate occupier of Low Library explains, "As soon as the doors closed behind us, the male-led culture of SDS manifested itself all too quickly. Women were consigned to making sandwiches and serving coffee as the men sat around gushing political ideology. It was obvious to the women in the building that a structural re-alignment of leadership would have to take place, and beyond that a fundamental change in the men's attitude to us was necessary. It really did feel like the beginning of something tremendously new for us." Interviews with police who participated in clearing the occupied campus buildings acknowledge the cultural tensions of the time, and rescue these men and women from the stereotype of 'thugs in uniform.' Extensive interviews with faculty and members of the Columbia administration document their varied, often opposing, attempts to save the University from irreparable destruction. We have even recorded a series of interviews with mothers of students involved in the building occupation, all of whom were involved in the makeshift and short-lived group Columbia Concerned Parents. Additionally, material drawn from unpublished memoirs and documents goes beyond the image of Columbia's administration as obtuse and repressive to reveal an older generation doing their best in convulsive circumstances. Commentary from liberal and conservative historians – some of whom were present on campus in 1968 – textures the story, opening the narrative out beyond Columbia.
In the more than forty years since 1968, much has been said about the generation of baby boomers who came of age in an era when the United States was experiencing such extraordinary political and cultural shifts. Yet never before has such a wide cross-section of the counterculture generation – participants deeply involved in the issues – spoken so candidly about what they experienced as twenty-year-olds and explained why their stories and testimonies are so important to our understanding of contemporary America. These reflections need to be recorded now, or else a crucial era of American history will be lost forever. Faculty, older alumni, city officials and police who were witnesses to the events are passing from the scene. Former students have reached their early sixties, a time of reflection, nostalgia and re-evaluation, while current youth are now removed from the crisis of 1968 by nearly two generations. The film records the Columbia crisis when it is still well within living memory, but poised to recede into history. As the next phase of America's history reveals itself there is no better time to study this era. By documenting the story of a generation of politically committed citizens, this project has the potential to inject a new visual vocabulary into our understanding of the Columbia uprising and the widespread social unrest that pervaded the final years of the Sixties in the United States and beyond. The story of the protest movement at Columbia goes far deeper and wider than the immediate issues of 1968. This exhaustive historical venture addresses the moral consequences faced by individuals who, with the best of intentions, attempted to change a society they condemned as unjust, but in so doing ultimately were forced to come to terms with the unintended and often disillusioning results of their actions. As such, this powerful human drama will speak to contemporary audiences.
For those who think they already know the story of student protest at Columbia in 1968 – an event that has a central place in the annals of that year, a time of convulsive political and cultural events around the world – A Time to Stir will be a revelation.
Five hundred interviews have been filmed and thirty thousand newly-discovered
photographs archived. The film will be completed in 2017. Here for an article
about the project and here for an interview.