A Time to Stir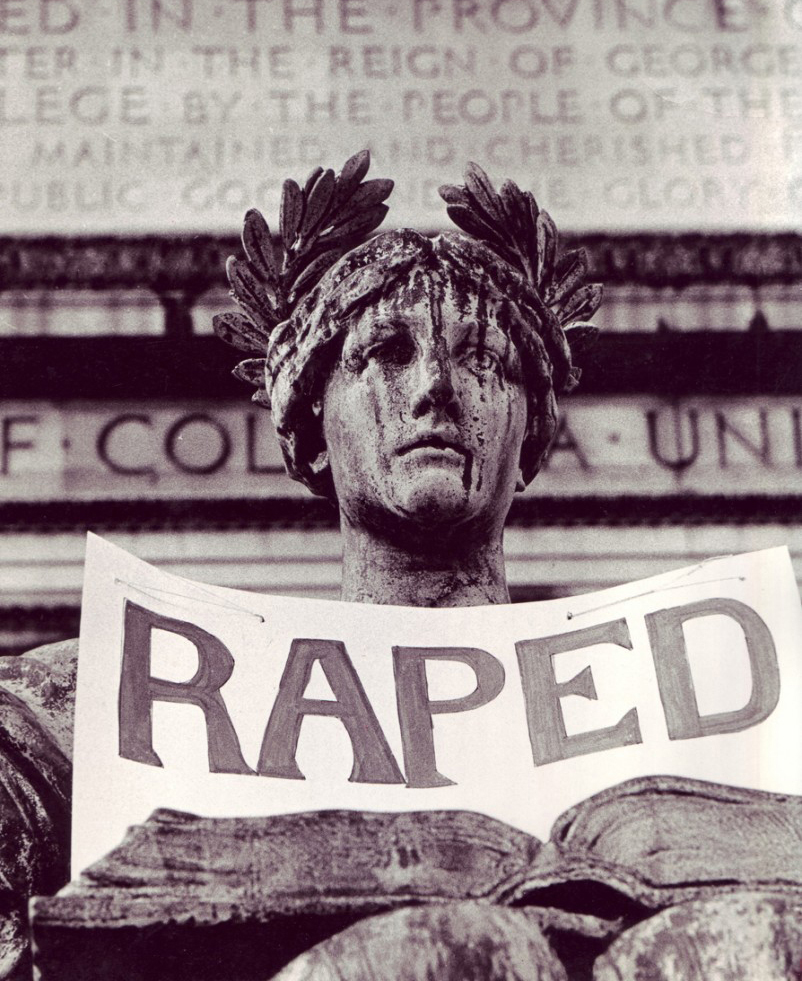 The documentary film A Time to Stir (2017) makes use of seven hundred new interviews and tens of thousands of never-before-seen photographs, plus hours of archival material, to explore the campus protests at Columbia University in 1968, when two key issues of the era – civil rights and the Vietnam War – collided.
An illustrated book of the same title, edited by Paul Cronin and published by Columbia University Press, contains more than sixty newly-written testimonials from a range of participants. Here for a 2008 article about the project from Columbia magazine about this piece of the 1968 trilogy.
---
When the country
into which I had just set my foot
was set on fire about my ears
it was time to stir.
It was time for every man to stir.
Thomas Paine

1968 was an extremely troubled year in modern history, with major social and political disturbances taking place around the industrialized world. Historian Alan Brinkley has written that the upheavals of the era "reflected, at least in part, the gap between bright expectations and reality." This gap was all too apparent in the United States, where baby boomers were coming of age in the face of de jure racism and the waging of a war in Southeast Asia. But while 1968 was, as Maurice Isserman and Michael Kazin have noted, "the pivot of the American decade," it was also the moment when "young radicals emerged from events tinged with violence to proclaim that a revolution was in the making."
In April, at the highpoint of the war in Vietnam and the Black Power movement, only days before the general strike in France and weeks before the Soviet occupation of Czechoslovakia, students at New York's Columbia University were galvanized in protest, and for a week occupied several buildings on campus, bringing the attention of the world's media onto a few square acres of northern Manhattan. It was the culmination of years of organization and political activity. Ron Carver was a Columbia undergraduate in 1968. "For the entire four years of my high school," he recalls, "I would go home at night and watch on the news the story unfolding of the struggle for civil rights in our country, starting with the Freedom Rides, buses full of people. We saw people being beaten in Birmingham, in Jackson, Mississippi, in Anniston, Alabama, every night on TV. This was what defined for us the moral crisis in our country and who our heroes were. For me and others, it defined what we wanted to do." These sensibilities had fueled a small but potent movement on the Columbia campus, starting in the early 1960s, which involved a committed group of activists, most fresh out of high school, who were largely learning as they went.
The immediate catalyst for the student action on campus in 1968 was Columbia's attempts to construct a college gymnasium on public land in nearby Morningside Park. Residents of local Harlem were to be given limited use of this facility, and local community leaders objected, viewing the project as encroachment upon their residential neighborhood. "They were going to build a gym with its back to Harlem, with a small door through which Harlem residents could come and swim a few times a week," says Leon Denmark, in 1968 a member of SAS, Columbia's Students' Afro-American Society. "When I grew up in Frederick, Maryland, that's what we could do at the YMCA. We could go into a side door and we could swim in the pool once a week. My grandparents, who raised me, wouldn't allow me to go. That was in the 1950s, and here we were in 1968 and a major university, in a major northern city, was doing the same thing."
"Race and power are two key elements in the narrative of American history," historian Stefan Bradley has written, "and they are even more important to the story of Columbia University's student revolt that started in April 1968 and continued into the fall of 1969. The predominantly white Ivy League school, in the Morningside Heights neighborhood of New York, functioned, as did many white institutions in the 1960s, as one that would impose its will on the seemingly defenseless black communities of Morningside Heights and Harlem by building a ten-story gymnasium in the precious recreational space of Morningside Park."
At the same time as trouble with the proposed gym was brewing, the Columbia chapter of Students for a Democratic Society (SDS) was steadily growing in strength, actively campaigning against the University's affiliation with the Institute for Defense Analyses and what it claimed was Columbia's support of research that contributed to war efforts in Vietnam. "Campus-based military research deeply involved higher education in the formulation and execution of American foreign policy," writes historian Kenneth J. Heineman. Columbia student Lewis Cole, a member of Columbia SDS, explains that "the worlds of Columbia and Vietnam were not divisible. The idea that these were separate spheres, that politics existed in one place but didn't exist in the other, was not the case. Some of us saw Columbia as a microcosm of the imperialist, racist and war-mongering American government, and we decided to hold a large campus rally on April 23, 1968."
On that day, members of various student groups – including SDS and SAS – joined forces for the first time and walked to Low Library, home to the University's administrative offices, where they were driven back by security guards. Shouting "Gym Crow Must Go!" they marched to Morningside Park, black and white students together, where they tore down a section of fence at the construction site of the gymnasium before returning to campus and occupying Hamilton Hall, a building on campus. Within a few hours there was a racial split, with SAS students asking all whites to evacuate the building, leaving it solely in the hands of black students. Ray Brown, in 1968 a member of SAS, believes that the differences between black and white Columbia students were inevitable. "We made a decision that we were going to be disciplined and that no one was going to be injured if we had anything to say about it," he says. "We had a good sense of how to handle ourselves under these circumstances because we had thought about this kind of event for years. We were committed to moving forward in a disciplined way that we knew we could impose on ourselves, but could not expect of others. So we had to ask the white students to leave and take their own building."
"My impression as an outsider was that this was a tremendous humiliation to SDS," says Carolyn Eisenberg, in 1968 a graduate student in the history department. "SDS felt they had been, in the language of the day, 'gut-checked.' Here was a revolutionary situation that had emerged and the white students had been removed from the situation by members of SAS." All white students immediately moved out of Hamilton and in the dead of night walked across campus and occupied Low Library, home to Columbia's administrative offices, including that of President Grayson Kirk. They rummaged through his private files, smoked his cigars and drank his sherry.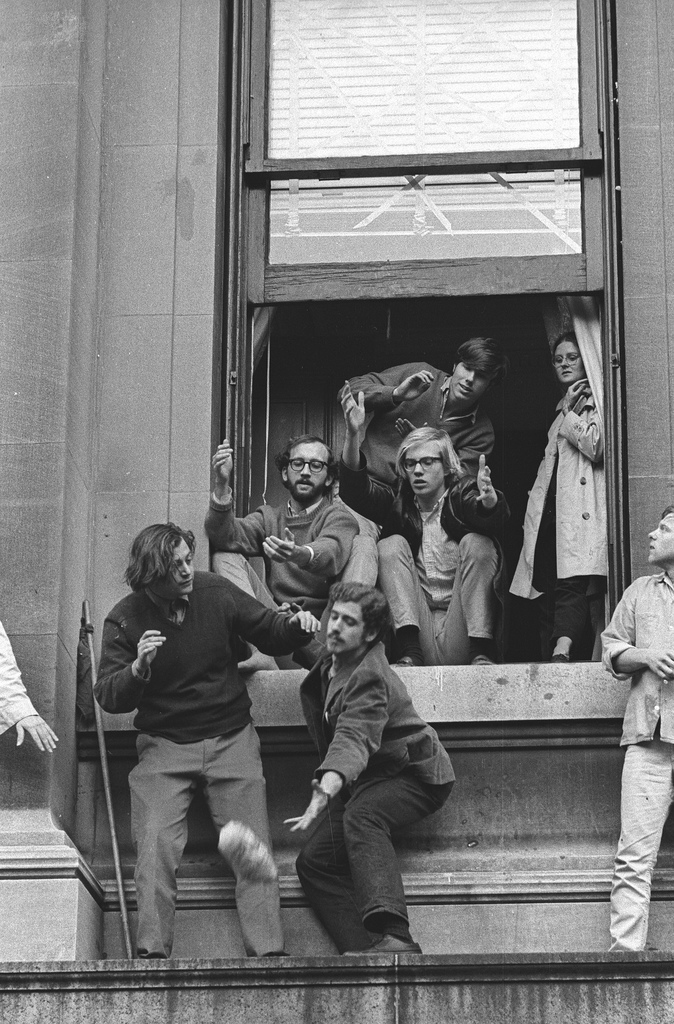 In the tumultuous days that followed, protesters barricaded themselves into three other buildings and established a series of "communes" in which a series of all-inclusive meetings and discussions took place. Eleanor Stein was a Columbia graduate student in 1968. "The underlying idea of this project was that everyone participating was going to get an opportunity to weigh in and give their opinion," she explains. "In that respect, it was a rare and a clarifying moment for us. We were attempting to create a new paradigm where decisions were being made from the bottom up." In this respect, Columbia 1968 was very much part of a larger societal challenge. As David Farber has noted, "From the New Left to the nascent New Right, from Black Power activists, Chicago militants, white southerners, and white urban ethnic blocs came impassioned calls for a more direct democracy built on local control and community right to self-determination."
Outside on campus, classes were cancelled and the faculty assembled in attempts to resolve the crisis. Professors on American campuses had "won academic freedom, in the first instance, not from state or church, but from their own trustees and administrations; the victory took the form of a division of labor and privilege that still persists. Nowhere was this more true than at Columbia," notes Allan Silver, a Columbia faculty member in 1968. Yet the faculty was "fundamentally on Columbia's side," says Professor Walter Metzger. "There was no way we could feel closer to the students than we did to the administration. It's the administration that paid our salaries and understood what we were about. These protesters were kids. At most they would be in our class maybe for one semester. The story the administration put out was that the faculty deserted them and joined with the worst elements among the students. That, I think, completely misunderstands the situation and maligns the faculty in the most unfair way." At the same time, a small group of students calling themselves the "Majority Coalition" – opposed to what they considered juvenile SDS antics – surrounded Low Library to prevent supplies from reaching protesters. Historian Gregory Schneider explains that while Vietnam was a catalyst for organizing on both ends of the political spectrum on campus, ultimately it was not the war "that brought the two sides into combat, but rather the issue of unlawful and disruptive campus protest."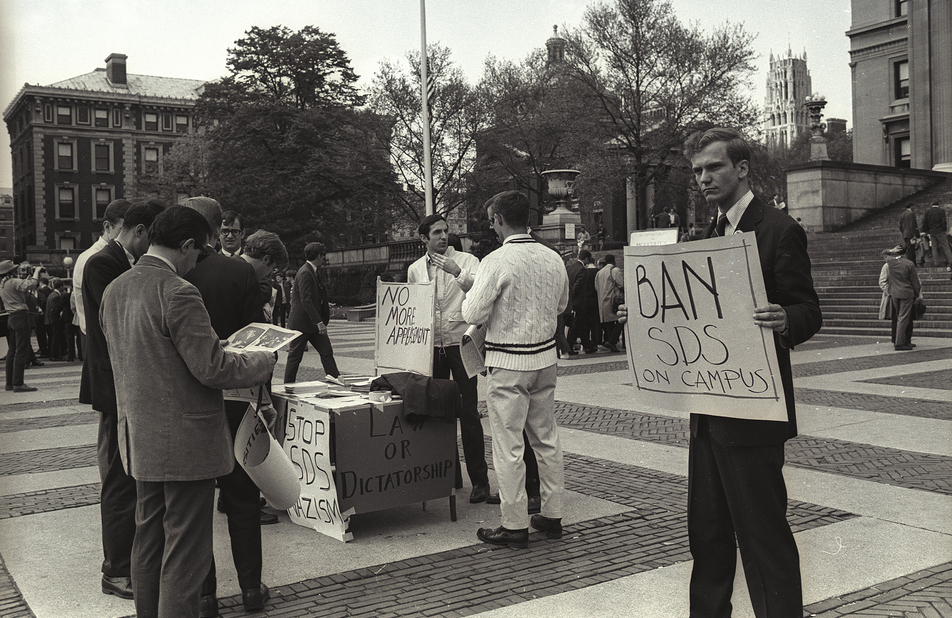 Fearful of a Harlem riot if the African-American students in Hamilton were harmed, the University administration hesitated before requesting that police clear the campus. "The paralyzed administration feared a gang war between right- and left-wing students," writes Rick Perlstein. "They feared reinforcing mobs from Harlem. They also feared for their liberal self-regard. The New York Times grasped the nub of the dilemma: liberating Columbia from 'hoodlum tactics' would take the kind of police tactics an Ivy League university was 'properly reluctant' to apply." The events culminated with the black students surrendering without a fight and a thousand New York City Police officers forcibly removing protesters from the other four buildings and the rest of the campus. Mike Reynolds, in 1968 a member of the elite Tactical Patrol Force, suggests that "the one thing the protesting students did learn that night was the difference between the theory of law and the practice of law. They saw how it really works. Back in the day, Mayor LaGuardia said that there was more law in the end of a nightstick than there was in all the law books in the country, and that's true. The basis of all law is the threat of force. If you don't obey the law, we will hit you on the head and throw you in prison." Several hundred students, faculty and police were injured, and many more were immediately radicalized. Almost the entire student body responded in solidarity when, on May 1, 1968, SDS called for a campus-wide strike.
What is the legacy of the 1968 Columbia protests? At the time, SDS argued that "the whole education system now – from grade school on up – is used to tie the allegiance of youth to the capitalist system by building up an ideological army for the ruling class." By 1968, campuses were ready to explode, and the events at Columbia in sparked a series of student uprisings across the nation. Alan Brinkley has written that "for a brief moment in the 1960s, a small group of student radicals managed to do what the American left had largely failed to achieve in almost a century of trying: create a genuine mass movement." Yet the "Battle of Morningside Heights," as it came to be known, reflected and encouraged an emerging and troubling trend toward violent action, and – in some fevered imaginations – made the college campus the center of an apparently impending revolution in America. What happened at Columbia in the Spring of 1968 – only three weeks after the assassination of Martin Luther King Jr. – was an early example of how legal protest against the war in Vietnam, and more broadly the power structure in the United States, became illegal resistance.
Allen J. Matusow has noted that "Columbia began the New Left's decline into madness. After Columbia, revolutionary consciousness rapidly took hold, and the goal of the movement became the seizure of power." Harvey Blume was a member of Columbia SDS in 1968: "Indigenous to early SDS was Jeffersonian populism," he says, "but around the time of the campus protests something else emerges. Leadership starts to regard itself as a vanguard with a privileged relationship to the truth. That's the moment when Leninism takes over. The New Left had always been defended against the Stalinist Old Left, but couldn't adequately defend itself against the Maoism that seeped into the movement in 1968. I feel that those kinds of ideologies very much did infect us, and distorted our view of things." While liberal reformers among faculty and students quickly reclaimed control of the university during the summer of 1968, many of the coalitions that had bound together the nationwide student protest movement were now effectively shattered by this acceleration toward radicalism and use of the campus as an incubator for extremist political activity.